SEATING
SEATING - CUSHIONS - SEAT BACKS - ACCESSORIES
Contoured Seating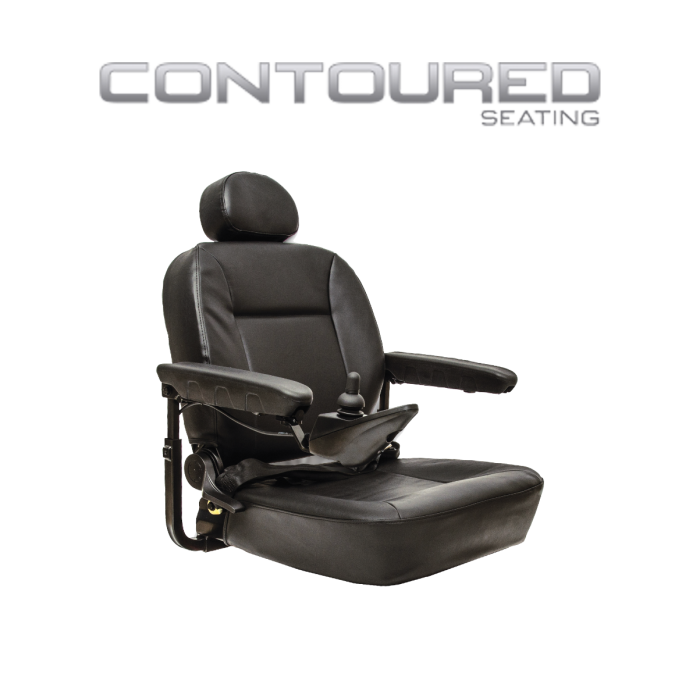 Captain's seat with limited recline
Contoured seating features a black vinyl Captain's seat with limited recline, and depth adjustability.
Contoured seating is the standard seating option on the Q1450 Power Chair. Contoured seating features a black vinyl Captain's seat with options consisting of a high back or medium back, solid seat pan, limited recline, and depth adjustability. It is selected when special positioning is not required
Synergy® Seating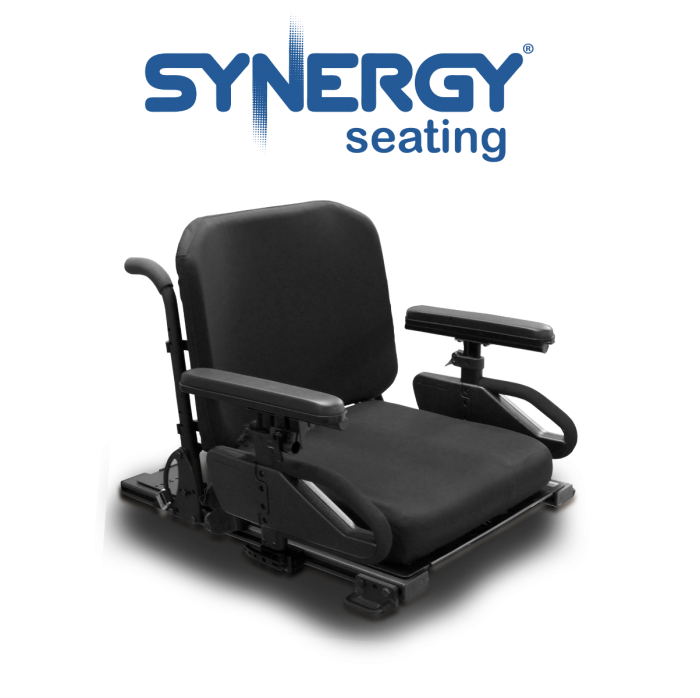 Smart seating, with adjustable options
Smart seating, with adjustable options
The Synergy® Seating System offers a clean, streamlined appearance and unparalleled ease of adjustment. The seating system's unique user-friendly design allows for adjustments to be made quickly and easily in the field.
Easily adjustable and versatile design that can grow with the client
Easy customization
Several width/depth adjustment packages ranging from 10" to 24"
Accepts a wide variety of after-market seats and backs
Heavy Duty option provides a weight capacity of 600 lbs. and seating up to 32" x 28" (model specific)
TRU-Balance® 3 Seating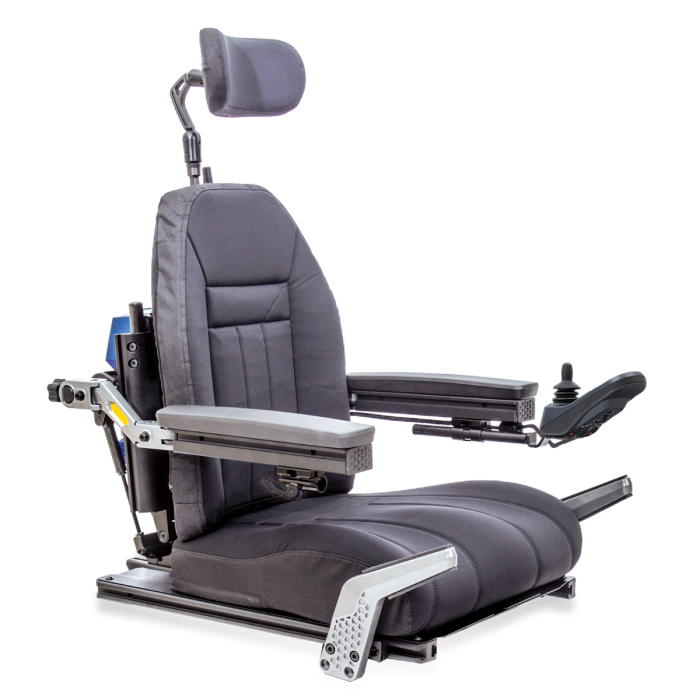 Quick adjustment with minimum fuss.
TRU-Balance® 3 Power Positioning System' features quick adjustment with minimum fuss.
TRU-Balance® 3 Power Positioning Systems feature an innovative design that maximizes functional independence while providing an appealing look and feel. Available configurations for the Q6 Edge® 2.0 Power Chair include the iLevel® 12" power adjustable seat lift.
TB Flex Seating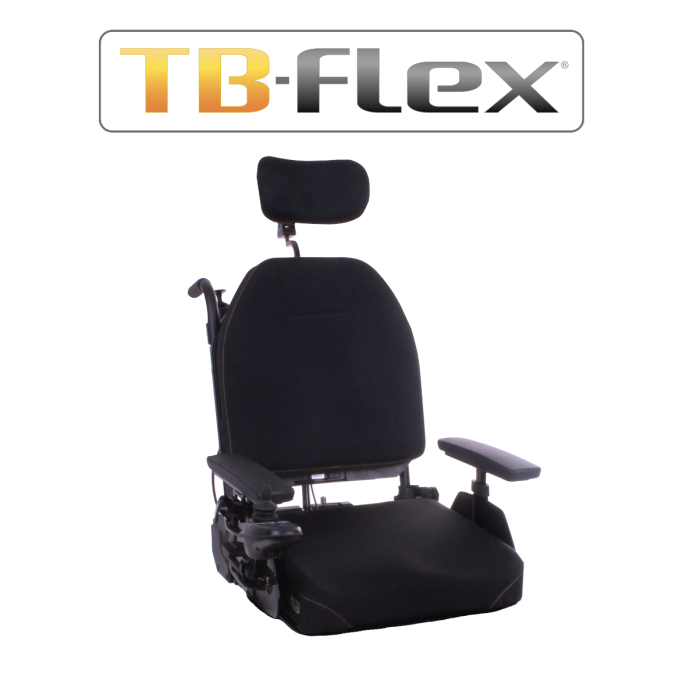 Designed specifically for Quantum
TB Flex Seating
Unique seating system designed specifically for Quantum
The TB-Flex™ Seat is a unique seating system designed specifically for Quantum Power Chairs and is fully adjustable to meet the individual needs of the user.
The TB-Flex Seat is equipped with a seatback, which is height and width adjustable, and can be operated
through a controller or a specialty controller.
Your TB-Flex Seat provides up to 30° of tilt, 25.4 cm (10 in.) of lift, can recline 95°-125°, and can tilt/
recline up to 125°.
Minimum Seat Size: 15″ x 15″
Maximum Seat Size: 22″ x 20″
Power Options: Powered Recline, Powered Tilt & Powered Seat Lift
Jay 3 Back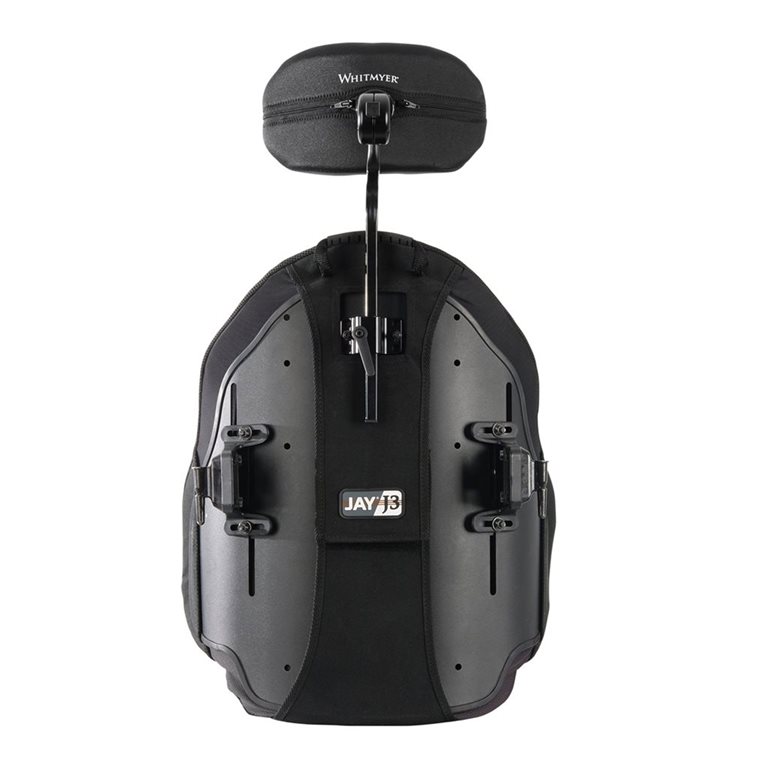 The best just got better.
JAYMount™ Hardware
JAYMount™ hardware is designed to clamp to back cane tubing widths of 1 1/8″ to 3/4 "; mount around obstacles such as towel bars, armrest receivers, and side guards; accommodate up to 2″ in width adjustment; angle backward with little or no loss of seat depth; and attach and remove with minimal effort. Never deal with complicated back hardware again.
Spine-Align: Let the Back Fit the User
Fitting the back to the user not the user to the back is the goal of the Spine-Align Posture Conforming system. This is accomplished by combining a wide range of individual foam components to create unique shapes that optimize postural support, evenly distribute pressure, and maximize function. Velcro strips attach to each shape so they can be placed into hundreds of configurations.
A Multitude of Shapes, Sizes and Widths
The J3™ Back is designed with a variety of contour depths, support heights, widths ranging from (12″ to 26") and support shapes to fit almost every user. This incredible range eliminates compromises and guarantees a correct fit almost every time. The variety of options and the multi-adaptable mounting hardware options make the days of fishing through stacks of order forms obsolete. One back, one fit, one order form. It's that simple.
Jay Easy Back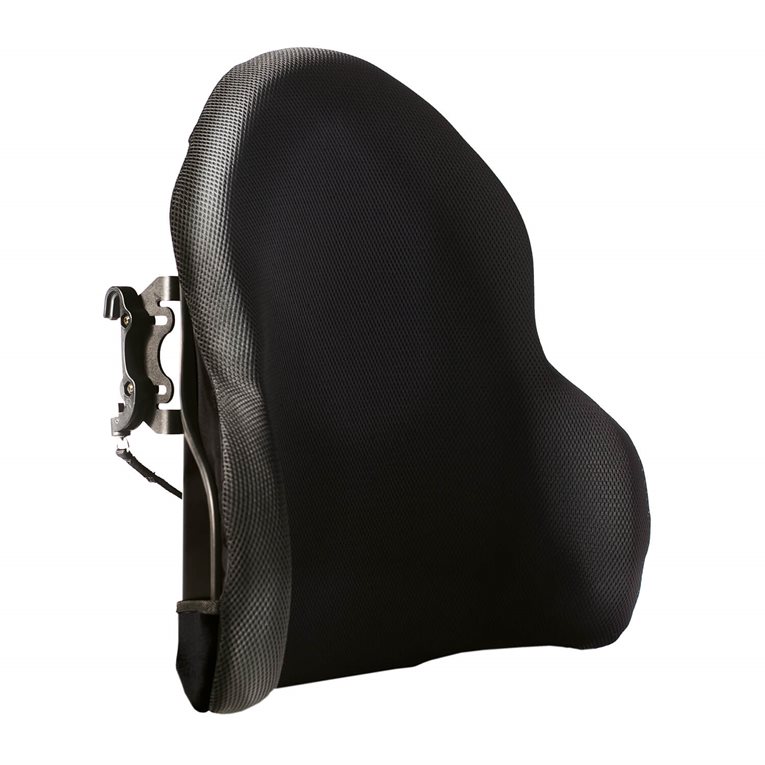 Positioning and comfort made easy.
EASY to order
Perfectly balancing the need for a good fit and adequate positioning with simplicity, the JAY Easy has all the options you need, available in:
Four widths (36/ 41/ 46/ 51 cm)
Three Heights (38/ 46/ 53 cm)
Two contour depths (shallow or posterior deep contour)
One easy solution
EASY to fit and use
The hardware is easy to operate and adjust for optimal back support.
Easy to fit to all common backrest tubes: 1.9cm, 2.2 – 2.3 cm or 2.5 cm
Easy to mount: Two point fixation to backrest tube
Stronger with less play: Four point attachment to backrest
Easy to use with less play: One handed backrest pull cord release
Easy to customise: Options available to optimise support and comfort
EASY Comfort through innovative cover technology
The combination of a soft foam interior with a microclimatic cover means you can be assured that the JAY EASY Back provides superior comfort that's easy to care for.
Breathable – 3DXTM spacer fabric cover, which vents heat and moisture and increases air flow
Superb comfort – through a thick, soft foam layer
Machine washable – at 60°C and quick to dry
Jay Carbon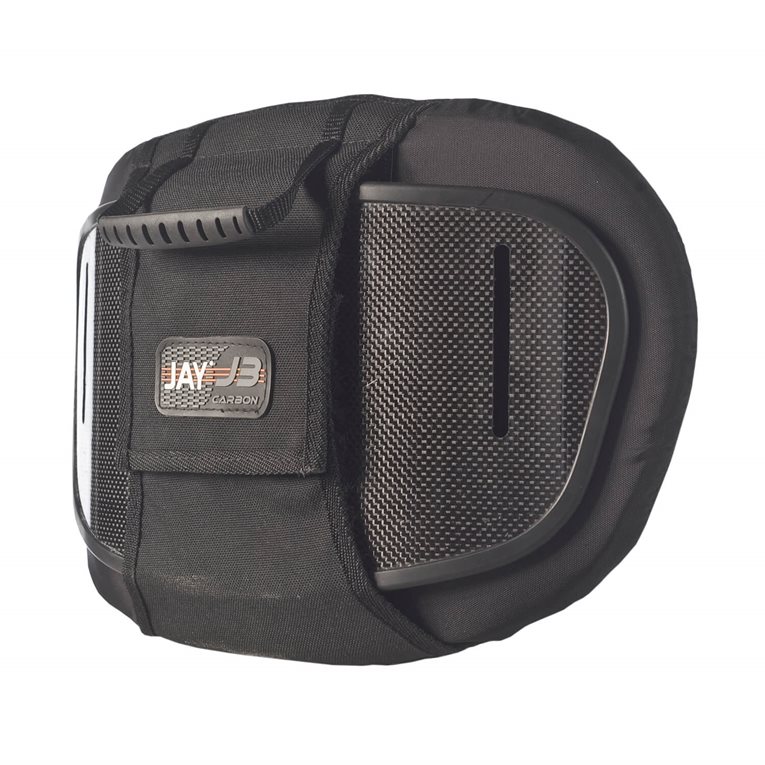 Feel the difference.
Designed to provide an ultra lightweight and stylish backrest for active users, the J3 Carbon backrest provides firm stabilisation of the pelvis and lower spine to encourage an optimal spinal curve. This stability is needed for upper body movement to ensure you can maintain an active lifestyle. Apart from being exceptionally comfortable, it can also help to reduce back pain.
The force that's generated when propelling your wheelchair is transferred more efficiently through a solid backrest into the frame. That means you're generating greater movement of your wheelchair with less effort.
Lightweight, strong and stylish
Carbon fibre is lightweight and strong – therefore the ideal material for this backrest. Offering the same strength as aluminium (but 60% lighter), the J3 Carbon backrest reduces the weight that a wheelchair users has to push and transfer. Day-by day, you'll feel the difference!
Adjustable to your needs
Different needs demand different solutions. The four back heights (from 17cm – 38cm) focus on the active user with a need for low to moderate posterior trunk support. Mild lateral trunk support is provided by the 5cm contour depth.
Jay Shape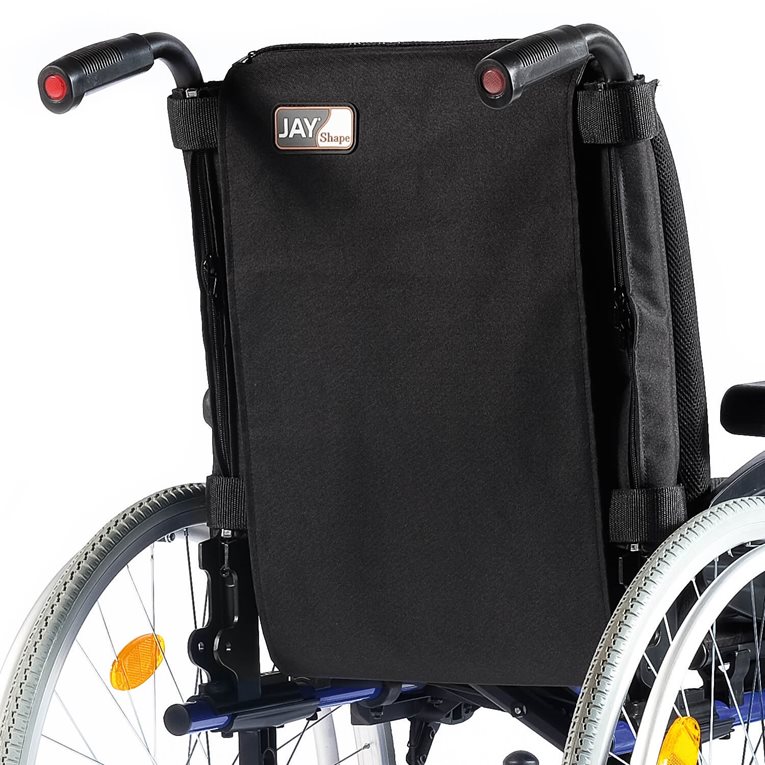 Premium tension adjustable backrest
Premium tension adjustable backrest for greater support and comfort.
Combining a highly adjustable strap system with a soft and breathable upholstery, the JAY Shape is a lightweight and foldable solution for fixed or semi-reducible spinal postures. The lateral supports maximise the benefit of this backrest when a more complex, non-symmetrical support surface is required. The backrest can be customised with spine alignment components for maximum surface contact to optimise the pressure distribution and support for fixed postures such as kyphosis, scoliosis, hyper lordosis or rib cage assymmetries.
Premium Tension Adjustable Upholstery
The JAY Shape wheelchair backrest offers a quick and simple field-adjustable strap system. Wide straps facilitate the adjustments and provide a stable and comfortable support surface.
The two vertical zippers allow easy mounting onto the backposts and mounting of laterals at the backposts without interfering with the strap system. This ensures a greater compatibility for more complex postures.
Exceptional Comfort and Breathability
The 3cm thick soft foam overlay supports the adjusted shape of the strap system to offer maximum spinal support and comfort. The highly breathable 3DX™ spacer fabric of the cover increases the air flow and vents heat and moisture effectively to ensure the skin stays cool and dry. The JAY Shape has an intgral flap to cover the gap between the cushion and backrest.
Jay 3 TC Back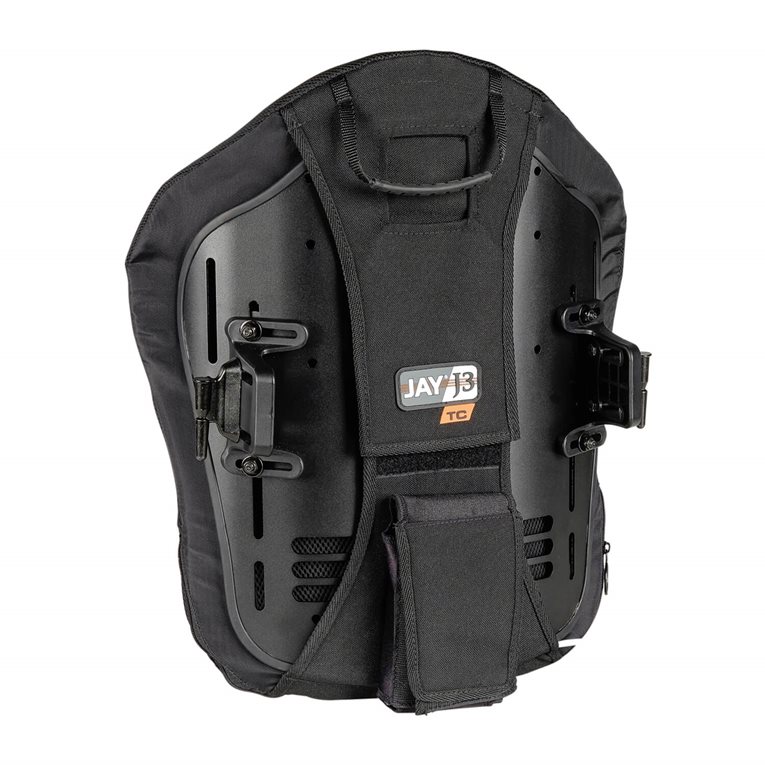 The most versatile JAY wheelchair back
The most versatile JAY wheelchair back
Skin temperature is important to your well-being and could help avoid skin breakdown, yet is often difficult to manage. By seamlessly combining the proven comfort and reliability of the JAY J3 Back with heat and ventilation technology (TC), the J3 TC Back ensures you are comfortable whatever the weather and helps reduce fatigue. Keeping you warm on those cold winter days and refreshingly cool in hot summer weather, you are ready to tackle the day whatever the temperature.
Clinical benefit
The patented internal thermal technology in the JAY J3 TC wheelchair back can help those who have difficulty regulating their own body temperature, like Spinal Cord Injury (SCI) as well as Multiple Sclerosis (MS) patients. Especially those patients who suffer from temperature dysregulation and therefore cannot fully adjust their body temperature under different environmental conditions.
For years several clinical studies worldwide have been concerned with temperature control issues and the fact that cooling systems have proven to be beneficial in their various forms. Davis et al. mentioned that "increased ambient or core body temperature" worsens clinical signs of MS patients while Song et al. highlighted that SCI patients "cannot appropriately respond to the changing temperatures of their surrounding environments". The JAY J3 TC was specifically designed to help reduce some of these most common symptoms.
Exceptional Comfort
The patented internal thermal technology provides exceptional comfort and may help those who have difficulty regulating their own body temperature. Evaporative cooling helps to dissipate moisture on your skin and keeps you feeling refreshed. The heating system warms throughout the back, allowing you to fully enjoy those cold winter days.
Cooling system with micro fans: The cooling system consists of a ventilation insert where small fans are incorporated.
Patented thermal technology: The heating system uses heating coils to generate heat.