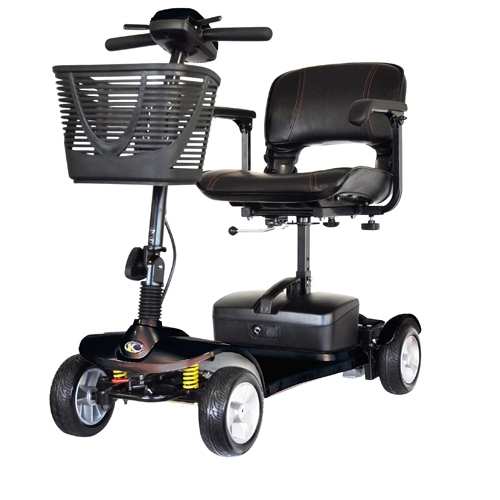 Kymco K Lite Comfort
Quality, Style & Performance!
The Kymco K Lite Comfort is a great scooter for both indoor and outdoor use.

Following on from the success of their K-Lite lightweight mobility scooter, Kymco have further improved the design to include an all round "comfort" suspension system. This is a feature that will bring extra pleasure to your journey and is rarely seen on a mobility scooter of this size and class. The addition of suspension should ensure that this will be another best seller for the summer. The all new K-Lite Comfort has been designed as a true lightweight mobility scooter to get you out and about. Following on from the extremely successful Kymco K-Lite, every aspect of the K-Lite Comfort's design has been thought through to make this scooter easy to use and easy to transport.
DOWNLOADS
Non puncture stylish tyres
10 mile maximum range
"NEW" All Round Suspension
Waterproof Ignition and Horn Button
Simple Off-board Battery Box Charging
AFTER CARE
Once you've purchased your scooter it's important to keep it in tip-top shape. At Batricar Mobility Centre we recommend having your scooter serviced at least once a year. That way we can detect any issue which may be present before they become a major problem and help keep your scooter running for as long as it can!
We are delighted to offer two different kinds of servicing options, to suit your needs as best as possible. Firstly, you can simply drop your electric scooter into our workshop either in New Milton or Wimborne, or we can come to your house and perform the service on-site from one of our fully stocked mobile service vehicles. The choice is yours. Our service technicians cover the whole of Dorset and Hampshire, and we have fully equipped service facilities in our workshops at both New Milton and Wimborne.
SERVICING
If you live in the Dorset and Hampshire area and you would like to book a service or repair, for either your mobility scooter or powerchair, or electric wheelchair, please call us on New Milton 01425 621211 or Wimborne 01202 884200.
To Book a service please complete the form below and send it to us, and we will contact you to arrange a suitable date and time.
INTERESTED IN THIS CHAIR?
REQUEST A CALL BACK